Auto Glass and Windshield Repair Resources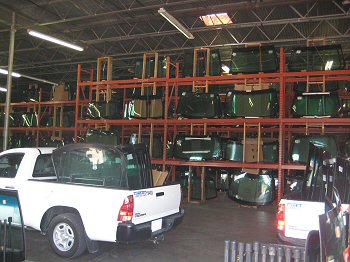 Auto Glass by Jerry has provided a selection of articles to help you research your windshield repair or auto glass servicing needs. The articles are intended to give you a good understanding of the process for getting your windshield repairs completed and to help you understand how to choose your auto glass service provider.
The Importance of Windshield Repairs - Keeping our vehicles looking good is one of the top priorities of car owners; however safety mostly beats out looks when it comes to car concerns. People want to know that they are safe while driving their vehicles and also that any passengers that ride along with them are safe as well. So, it is important that you be aware of any changes in your vehicle, especially those on the windshield. Not only can it not look good to have a cracked, chipped or broken windshield but it is also very unsafe to ride with your windshield in that condition.
Windshield Repair or Replacement, a Crucial Decision - About 13 to 14 million windshields are replaced every year in the United States. Why? The most common reasons are damage caused by debris flying into windshields, vandalism, and collisions. Windshield replacement is a skill that requires extensive training and proficient knowledge of proper installation materials and their use. Many facilities that offer windshield repair also offer windshield replacement, but both repair and replacement carry with them certain risks that every consumer should be aware of.
Windshield Replacement - A Major Safety Precaution - Auto professionals recommend that when you have a nick or crack in your windshield that you get it repaired as opposed to having the entire thing replaced. This will save you a great deal of money in comparison with getting a brand new windshield. There are times though that the imperfection in your auto glass may be too serious to repair and you must go the more extreme route of actually having it replaced.
Windshield Repair, Are All Chips and Cracks Repairable? - Many people have never even heard of a windshield repair. They assume they have to live with the damage or pay the high price of getting a replacement. The problem with ignoring the damage is that it will grow worse with time. Replacements have their downsides as well. Besides spending up to $350, you lose the original manufacture seal. Many replacements are done incorrectly and can leak and crack. What is the alternative?

Understanding Windshield Chip Repair - For most automobile owners, changing oil and doing routine maintenance checks are important aspects of keeping the vehicle healthy. When the car manifests signs of problems, the driver would usually make sure it is corrected immediately to avoid more costly repairs later. But one thing most car owners neglect, but should not, is the windshield. Although the windshield does not belong with the 'mysterious' underhood components and seems to be transparent in its use, its importance cannot be understated. As with any car component problems, windshield damage should be repaired immediately.
Auto Glass Repair - Four Questions You Should Ask - When your vehicle's windshield incurs damages, your first instinct is usually to rush your car to the nearest auto glass repair shop you can find. Windshield replacement (and other auto glass repair services) however, is not something you rush into in a state of panic. Choosing which shop to go to requires careful thought and consideration. So before you take your car to your neighborhood repair shop, it is wise to try to find out the answers to these questions first.
---
Call Us to Schedule Your Auto Glass Service
Thank you for visiting Rockwall Auto Glass.com. Please take a few moments to look over our site and learn more about us. Then give us a call for your free no-obligation price quote or to schedule an appointment.
Auto Glass by Jerry - Proudly serving Rockwall Texas and the surrounding area since 2000!
Phone: (214) 681-6255
In Greenville: (903) 461-5515 — In Grand Saline: (903) 330-2414
jerry@rockwallautoglass.com