Auto Glass and Windshield Services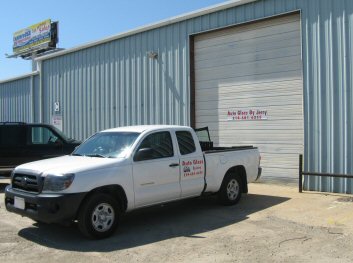 When calling various auto glass and windshield repair companies, there are several questions to ask to make sure you don't get hit with hidden charges that drive up their prices. One of the most frequent hidden charges you will find is a charge for mobile service, meaning that they charge a flat fee to travel to your vehicle that is added on top of the costs for labor and materials.
Auto Glass by Jerry does not charge for mobile service. It doesn't matter if you're in Rockwall, Grand Saline, Greenville, Plano, Rowlett, Royce City or any other of the communities in our service area. If you are in our service area, our mobile service is free.
(By the way - some services also hit you with a "shop charge" if you bring your car to their facility for repairs. Auto Glass by Jerry maintains an auto glass shop in Rockwall, Texas for your convenience, and does not charge any shop fees for work done on our property.)
Visit our Mobile Service Area page to see if your community falls in our coverage area!
---
Call Us to Schedule Your Auto Glass Service
Thank you for visiting Rockwall Auto Glass.com. Please take a few moments to look over our site and learn more about us. Then give us a call for your free no-obligation price quote or to schedule an appointment.
Auto Glass by Jerry - Proudly serving Rockwall Texas and the surrounding area since 2000!
Phone: (214) 681-6255
In Greenville: (903) 461-5515 — In Grand Saline: (903) 330-2414
jerry@rockwallautoglass.com