Customer Testimonials
Here are some of the reviews we've received from our customers . . .
I have a tendency to over research things, and replacing my MINI Cooper's windshield was no exception. These can be a little tricky to work and you want someone who's experienced and knows all the little nuances of replacing these windshields. Jerry and Tammy did a stellar job - their promptness, knowledge, quality of work, and reasonable price are above par. From now on, they will be my go-to folks for any future auto glass work I may need. Thanks guys for doing such a great job.
Allison
Jerry came out this morning and repaired my husbands driver side window. He was professional, fast, did great work and was very affordable. I would recommend him to anyone! Thanks for the prompt service!
alishaann
Auto Glass by Jerry is the best! They were prompt, friendly, and professional. Jerry came to my place of business and replaced the windshield in a very short time. It looks great and I couldn't be happier. He even repaired a broken gate in the parking lot while he was waiting for me to come outside! Jerry did an excellent job replacing the windshield on my van and I would highly recommend him to anyone.
Rowlett Public Library
Auto glass by Jerry did a great job on the windshield of my pickup they were on time and did the job very quickly and professionally. I will recommend AUTO GLASS BY JERRY. They have great prices and has been in business for quite some time so if you need great work at a great price call Auto Glass by Jerry.
asal1964
I want to thank Auto Glass By Jerry for the great job they did when replacing my windshield in my 2010 Honda Accord.They did such a super job that it looks just like it came off the show room floor.Jerry,I will gladly recommend you to any one who may need glass work done.Auto Glass By Jerry not only does great work but they also have great prices and quality products.Thanks again Jerry.?
Carrie
I would personally like to thank Jerry's Auto glass for the replacement of the windshield on my 1999 dodge truck. The professionalism of his company from scheduling to replacement of the windshield was fast and efficient. Their teamwork of completing the job was unbelievable. The job was done better than factory new. Very reasonable price for the quality of the job. Thank you very much! Sincerely, Arlen Foulks Rockwall, Texas?
alf3
I got professional service at an affordable price. I was impressed with the professionalism. I will definitely use Auto Glass by Jerry again in the future and refer them to people I come across that need auto glass work done. They even took the time to clean up the area in my car that was filled with broken glass and debris. I appreciate the job well done and it didn't even take very long! Thanks again!
Carrie
I want to take this opportunity to send you a short note to thank you for your outstanding service. I have worked for IBM and Eastman Kodak and have witnessed great service but they have nothing better than what you provide. Every time I have called you, you have been quick to respond and the work has been impeccable. Not only do you provide outstanding service but use good judgment in dealing with customers. You charge fair prices and when something is in doubt the customer receives the benefit of the doubt. I would have no problem and would relish the opportunity to refer you to anyone who needs window repair.
Thanks again,
Jack McNutt
My sister-in-law had her car broken into and a couple of things stolen. Auto Glass by Jerry came out and fixed her window and even repaired a busted windshield. They were punctual, friendly, and very reasonably priced. My sister-in-law was pleased with the service. In a situation that was already bad, they just made her feel much better, it was a load off to get it taken care of in such a quick manner.
Darrell
Excellent,professional service. Very pleased with results. Very punctual and neat. Highly recommend.
sandyb
I was really pleased with the work done on my 2009 Hummer by Auto Glass by Jerry.They were very prompt and the price was very fair. Cheapness is not always the best policy.GREAT JOB JERRY!!!!!
SUE
Very will pleased with the service with JERRY'S AUTO GLASS ,did an excellent job on my wifes new car,very polite and enjoyed talking about CHRIST with him,I highly recommend him for the job...FOR GOD SO LOVED THE WORLD....
jeff
Auto Glass by Jerry did a great job. They even saved my toll tag sticker. They were early and took less than 30 minutes. Great experience!
Hook'em
Great experience with Auto Glass by Jerry. Fast same day service with reasonable price. Auto Glass by Jerry might not be the cheapest but not far from it. However, the servcie is great and work is done fast, thoroughly and correctly. I would recommend Auto Glass by Jerry to all my friends.
Lotus123
i would recommend Jerry they are very good people always gets the job done and always on time and very poliet i would recommend them
pennington.veronica
I have an older car.....1991 Lexus LS400, and it's in very good condition. I drive it to and from work everyday, and I need it to look good. When a rock hit my windshield(original from the factory), I gave Jerry and Tammy a call. They got some basic information about my car, and within a short while called me back with a price. Jerry came to my house to do the replacement, and did an outstanding job. In fact, he was so careful and professional that he saved the liner/trim around the windshield, which saved me money. I'm sure that other glass companies would have just ripped it out and charged me for a new one. When he was finished with the job, my windshield looked as good as new!
Bob
My wife and I can wholeheartedly recommend Jerry and Tammy for your auto glass. They are the best!
Bob Vander Drift
You guys have done wonderful jobs not only the window repair but your always quick to respond
veronica
I used jerry on three occasions and allway's call him first he is fast dependable and the price is the best around. I have used another in the past and never got the service I recieved from them. I called them and they were there in no time. Just great all around service. Thanks Jerry.
Darin B
I would definitely recommend Auto Glass by Jerry to everyone. I called this morning and they were here in a flash. They did a awesome job. It was also a very fair price. I will definitely have no problem refering you to anyone who needs windshield repair. Thanks so much.
satisfied customer
I am extremely happy about how I was treated on the phone and when he came to do my window. I called on monday 7/27 and he just finished putting in my new windshield 7/29. 45 minutes to do it. Very happy with the whole process. Will recommend to others and will use again.
DawnM
I recommend this company for auto glass repair. They were on time fast and efficient for a great price. Call them up if you need anything
RearviewMirror
I called Jerry on Friday to repair my windshield on my Echo and he was there early Monday morning, and completed his work efficiently within an hour. This is my second experience with him and both were exemplary. The first time, we didn't know if the seal was broken or not, and he tried several different repairs until he found the one that worked. Toyota charged me $100.00 just to look, and wanted an additional $500.00 for the same Totyota windshield. Save your money and use Jerry. USAA recommends him also.
Nina
I called Auto Glass by Jerry out to fix my windshield. They were prompt, professional, efficient and I will definitely use them again in the future. I recommend them to anyone I come across that needs auto glass work. I appreciate the kind and professional work that they performed. It gives me good faith in the service industry. Thank you for relieving my stress and putting my mind at ease! Great work!!
rocc w
Feel free to check out our reviews on Google and Yahoo - please follow the links below to read them or to post your own!
Click here to write a Google review (must have free Google account)
Click here to write a Yahoo review (must have free Yahoo account)

Family-owned - We're Your Neighbors!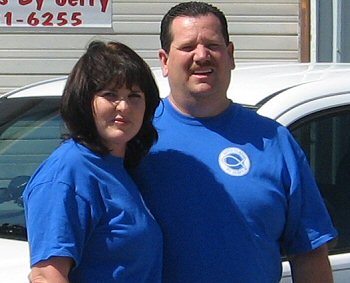 Auto Glass by Jerry is a family-owned business. We aren't a chain store or multi-location franchise, owned by someone who lives in another state. We have lived in Rockwall, Texas for 20 years - we're your neighbors, part of your community. And that's how we treat our customers, with the special service you'd expect to receive from a neighbor and friend.
We are also a Christian-owned business. Our faith drives the values upon which we base our auto glass repair services. We believe in honesty and integrity in our dealings and compassion for others in establishing fair pricing and providing the best possible service; in short, our business is run by the Golden Rule.
Call Us to Schedule Your Auto Glass Service
Thank you for visiting Rockwall Auto Glass.com. Please take a few moments to look over our site and learn more about us. Then give us a call for your free no-obligation price quote or to schedule an appointment.
---
Call Us to Schedule Your Auto Glass Service
Thank you for visiting Rockwall Auto Glass.com. Please take a few moments to look over our site and learn more about us. Then give us a call for your free no-obligation price quote or to schedule an appointment.
Auto Glass by Jerry - Proudly serving Rockwall Texas and the surrounding area since 2000!
Phone: (214) 681-6255
In Greenville: (903) 461-5515 — In Grand Saline: (903) 330-2414
jerry@rockwallautoglass.com