Quality Auto Glass Repair in Rockwall, Texas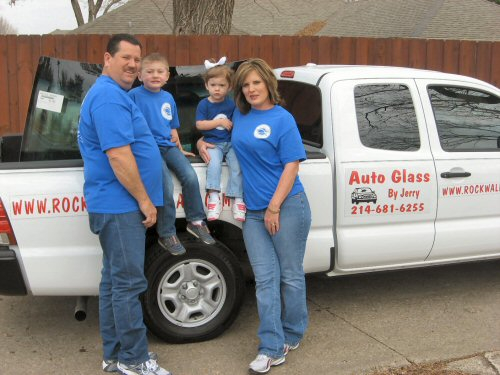 Auto Glass by Jerry has provided superior auto glass repair and windshield repair and replacement in Rockwall, Garland, Mesquite and around north Texas for more than nine years.
We provide a full spectrum of windshield and auto glass services:
Repair serviceable windshields, windows and other auto glass for all makes and models of cars and trucks.
Replace non-serviceable windshields, windows and other auto glass using ONLY quality OE auto glass - the same windshields used by auto manufacturers.
Windshield chip repair - in many instances your insurance will pay 100% of this service, making windshield chip repair FREE to you.
Lifetime warranty on our auto glass work.
FREE mobile service to Rockwall, Garland, Mesquite, Royce City, Greenville, Forney, Rowlett, Terrell, Caddo Mills, Wyle, Plano, Sachse, Grand Saline and other communities in North Texas.
Same day service usually available.
Five-star insurance-approved shop with NO shop fees.
Claims filing with any insurance company so you don't have to pay the full price to us and file an insurance claim yourself.
Has your electric windows stopped working? We can replace window motors and regulators in your car's doors.
Bonded and certified glass technician will service your vehicle.
Mastercard and Visa accepted.
Family-owned - We're Your Neighbors!
Auto Glass by Jerry is a family-owned business. We aren't a chain store or multi-location franchise, owned by someone who lives in another state. We have lived in Rockwall, Texas for 20 years - we're your neighbors, part of your community. And that's how we treat our customers, with the special service you'd expect to receive from a neighbor and friend.

We are also a Christian-owned business. Our faith drives the values upon which we base our auto glass repair services. We believe in honesty and integrity in our dealings and compassion for others in establishing fair pricing and providing the best possible service; in short, our business is run by the Golden Rule.
Call Us to Schedule Your Auto Glass Service
Thank you for visiting Rockwall Auto Glass.com. Please take a few moments to look over our site and learn more about us. Then give us a call for your free no-obligation price quote or to schedule an appointment.
Auto Glass by Jerry - Proudly serving Rockwall Texas and the surrounding area since 2000!
Phone: (214) 681-6255
In Greenville: (903) 461-5515 — In Grand Saline: (903) 330-2414
jerry@rockwallautoglass.com